TILES ANS SLABS WITH A SMOOTH SURFACE
Smooth clay tiles and slabs can be made entirely by hand or also using molds. The measures and sizes are adapted to the work to be made and allow it to be given the desired shapes, asymmetrical or rounded, and thus, allow to obtain unique pieces that are adapted to the space to be decorated. The final look is more irregular and rustic than an industrial tile, and each piece is one of a kind. Once the clay is dry, they are cooked in the kiln at 980ºC or, depending on the clay, at 1300ºC.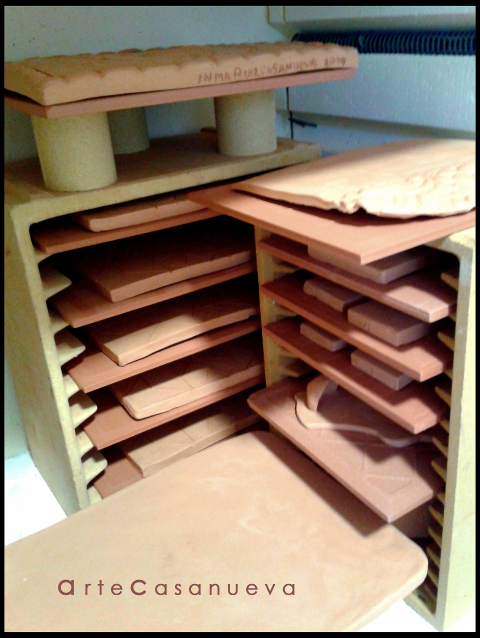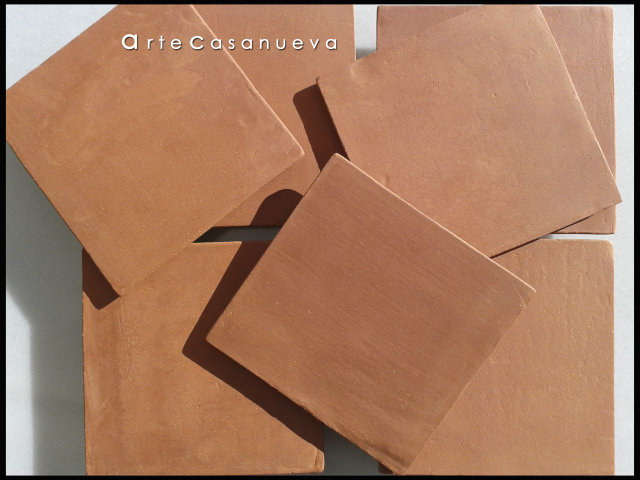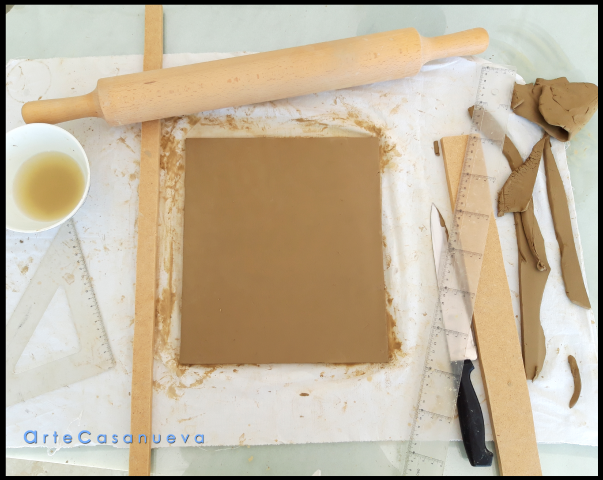 Industrial tiles and slabs are normally used in the workshop, and on request they can be made by hand, being more expensive. This choice of handmade tiles will depend on the taste of the client and, sometimes, on the nature of the work. 
TILES AND SLABS WITH INCISA DECORATION
This technique consists of cutting the surface of the clay or mud. In this type of clay pieces, once the tile has been made with the desired measurements and with the clay still fresh, they are decorated with a graver, making incisions in it following the marked drawing. These incisions are made by hand and can be subtle or deep, fine lines or wide. The dried tiles or slabs are fired in the kiln and glazed with the cuerda seca (dry line) technique to look like a mosaic, or the incised lines with glazes, oxides and pigments can also be emphasized. Once the glaze is applied, they are given a second and final firing.
This work is composed of several slabs made by hand and incised adapted to the drawing of the panel (45cmx75cm), after being fired glazed with the cuerda seca technique (dry line), simulating a mosaic. Model "Mihrab"
SLABS AND OTHER RELIEF PIECES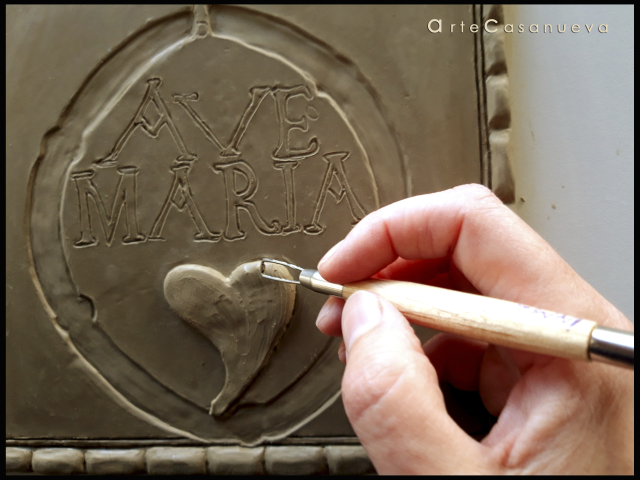 The tiles, slabs and other plates of fresh clay are decorated with a relief that is modeled by hand on the surface adding clay or removing according to the technique used. The result is a piece with a more or less pronounced volume, obtaining a bas-relief. The dried piece is fired in the kiln and glazed with one of the different ceramic decorative techniques. The reliefs are modeled by hand or with previously made molds, the latter are used when a series of equal pieces has to be made.
"Cetrero" (29cm x 27.5cm) Slab with relief modeled by hand and decorated with slips and gilding. Process of elaboration of the work.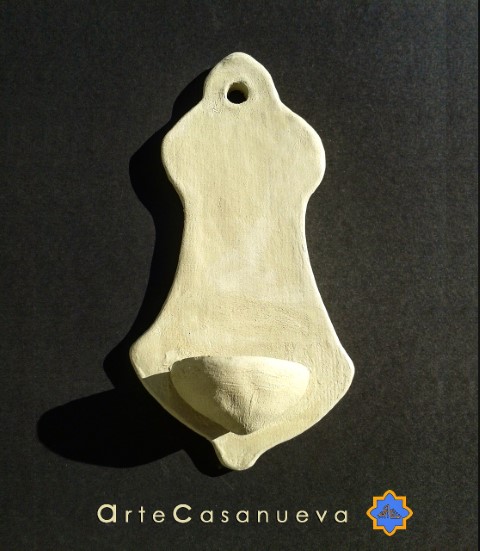 This arista o cuenca tiles (edge or basin tiles) are made by hand with this ancient spanish technic with the help of a handmade mold. 
Modeled figures, plates, home decor items, bowls and other clay containers made in the workshop and decorated with different ceramic techniques.